Commercial HVAC Maintenance Tips
We have some commercial heating and cooling system tips for you.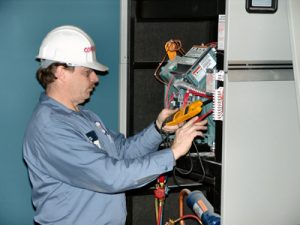 As a business, you must remember that your heating and air conditioning system is pretty important to the business on many levels.
It just so happens that commercial air conditioning systems use a WHOLE lot of energy and can cost a lot of money to run.
Fortunately, over the past few years, heating systems and A/C units have really grown in the area of energy efficiency. If you have an old AC unit, it's usually best to simply replace the entire unit with a new one. But it isn't always easy or cost-effective to just replace your current HVAC unit.
We are here to give you some advice on how to keep your commercial HVAC system in great shape, use less energy, and save costs.
First think about how to reduce your usage of heat or ac before considering new equipment. Think about what you NEED before you jump into anything.
Always, always have us quote you on the specs of a new cooling system. You can avoid extra costs at the time of installation by knowing the efficiency and lifestyle costs of a new system. Ask questions!
Know your size. If you over-size your new HVAC equipment, you could run into massive installation costs that you might not actually need to deal with. Request a professional sizing calculation.
Energy-Star qualified? Try to go with this when purchasing new commercial HVAC units. You will notice the benefits.
Don't forget the VENTILATION in HVAC. Make sure you have energy-recovery ventilation systems so your air streams are exhausted properly keeping your business air clean, fresh and efficient.
Do you have a humidity issue? Get a dehumidifier. Seems pretty simply, but it is often overlooked. This can also help you downsize unnecessary equipment.
Do you have a dry climate issue? Get an evaporator cooler. These eliminate the need for heavy-duty compressors.