2015 Pulse of the City Award Winner | Comfortrol of Columbus, OH
We were awarded the 2015 Pulse of the City badge for customer satisfaction for our commercial HVAC services throughout Columbus, Ohio!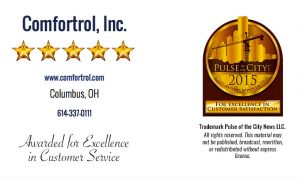 From Pulse:
"Congratulations on earning top customer satisfaction ratings and winning the 2015 Pulse of the City News Award for excellence in customer service. With a 5 star rating, Comfortrol, Inc. has joined an elite group of award winners that gives a distinct advantage in attracting new business. With 2016 research underway, now is the perfect time to order your materials for 2015 while they are still available."
We thank all of our Columbus clients and their amazing feedback on our business.
We are truly dedicated to our clientele in our locale. Our staff is beyond equipped with talent and expertise in all areas of commercial heating, air conditioning and ventilation.
With a collective 75 years of management experience and 170 years of field experience, Comfortrol offers our clients all of those things.
Thanks again all of Columbus for rating us with 5-stars!